(I have decided that this will be a weekly feature.)
So, there's this HORRIBLE show on TLC that ought to be cancelled. It's called Toddlers and Tiaras. It's supposed to be a show about children in beauty pageants and their families. What it's really about are women (usually PAST too fucking fat) living vicariously through their children and spending shit tons of money on pageants that mean ABSOLUTELY NOTHING in the real world. 
My sons were in pageants when they were little. I know, I know, but I was young and stupid. I wasn't even trying to live vicariously, I thought my boys were very good looking and the idea was given to me by a nurse at their doctor's office. So I entered Cory in a pageant at the ripe old age of 1. He won 2nd place. The first place winner was a harelip boy. Now, I know how this is gonna sound, but let's face it, you're wondering how the fuck he lost too. I mean C'MON! You would wonder if it were you're kid. Damn skippy you would. Anyway, I found out REALLY quick that it depended how much money you spent on the pageant. The more you spent, the better your chances at winning. We did a total of 4 pageants. The end.
This show takes things to a whole new level of creepy fucked up in the headdom. The kids wind up looking like weird plastic sex dolls with baby faces. Which might be swell in Thailand, but here in the good ole USA, I thought we frowned upon those things. My bad. 
So, every once in awhile I watch this train wreck of a show just so I can, I dunno, make me look like the worlds greatest parent. Seriously. If you EVER think you're a fucked up parent, watch ONE episode. Hell, HALF an episode. You will find yourself, like me, staring in horror and yelling at the TV. It's like some fucked up football game full of stupidity. Kinda like any game involving the Raiders.
Today I caught an episode that sparked a bit of outrage last week. I heard a snippet on the news about this one episode and I was like "Shit! I wanna see that!". Then today, to my delight (and horror and shock and astonishment and rage and disgust) it was on! And there is one particular mother who gets the "What the FUCK is wrong with you?" award for the week. Her name is June.
June is a disgusting flob (that's fat and slob put together). No seriously. Think of the word fat and then think of the word slob. Combine them. Get a picture of what one may look like in your head. It's worse than that.
Yep. FLOB.
And I'm gonna be mean and balls to the wall honest here. Her kid is ugly. Seriously. The kid isn't cute. Not her fault. *looks up* 
I know what you're thinking. She's not THAT bad. Plus she's making a silly face. Well, honestly, it was her attitude that made her so bad and that ISN'T just a funny face. She looked like this the majority of the time.
There it is. The face for 6 minutes. The end of this video makes me kinda sad. They way she's grabbing onto her belly and the "adult" camera crew is laughing. She's too young to realize they're laughing AT her. And that phrase, that "honey boo-boo child" just irritates the SHIT outta me. And really, a "dollar makes her holler"? What the FUCK?! That's something a Vietnamese prostitute says, not a 6 year-old!
This mother, this sack of SHIT woman, feeds her daughter "go-go juice" during pageants. It's Red Bull mixed with Mountain Dew in a not so cleverly disguised Mountain Dew bottle. This mother said, and I quote-"A lot of moms say, Oh well, you are doping your child up, well, hey, no, I am not. I am not hurting her. We have tried the pixie sticks that people call "pageant crack", we went through 15 bags one pageant and it does not do anything for her."  
As for how she would react if anyone were to question her parenting, this Marie Curie of Georgia said "If somebody came up to me, had an opinion about my daughter, I would knock them the hell up.," she laughs, "Like get in your face and knock the shit out of you." Would you? Would you REALLY? You couldn't even CATCH me you grotesque squinty eye'd Jabba the… Damn. I don't wanna make Jabba feel bad here. Sorry Jabba. But the resemblance IS a little disturbing.
I see it now.
Watching the woman follow her daughter through that dance routine was like watching Godzilla crossed with a hillbilly. I had to cover my face in fear of her popping out of the TV to eat me.
This kid ought to be taken away from her. As a matter of fact, if you see some of the torture these kids go through, a LOT of them could be given to better homes. Like sad little kittens in the rain.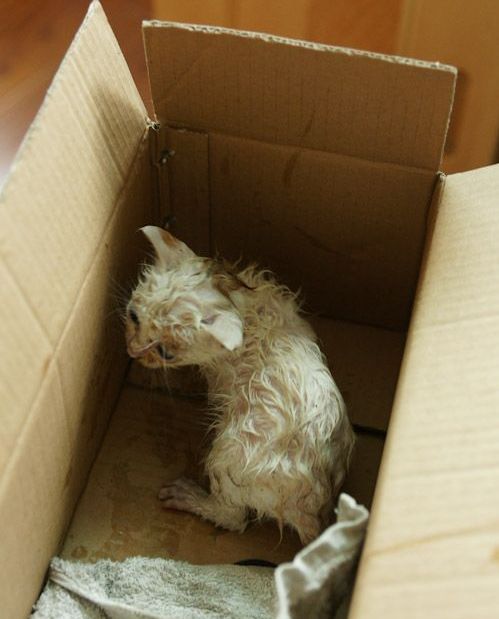 Poor babies.
The real question is why on EARTH a network called The LEARNING Channel would air such a show. They ought to learn to be ashamed of themselves. (Did you like that? *rim shot*) I'd like to know why, if I spank my child too hard, I could look at jail time and these women are TELEVISING their PURPOSEFUL, UNNECESSARY and UNCALLED FOR abuse on a weekly basis with NO REPERCUSSIONS AT ALL.
Personally, I think children ought to look like this -
Not like this - 
or this
and sure as HELL not like THIS-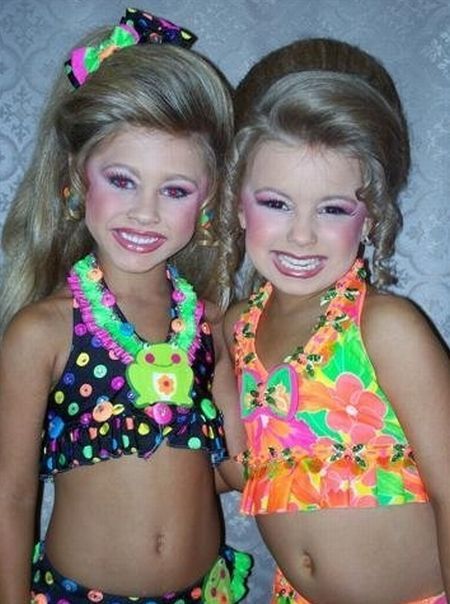 They look like they're going to eat my fucking BRAINS. The zombie apocalypse is here folks! And it wants to be Miss Grand Supreme!
The money that they spend, doesn't even equal what the could win. The average cost of a glitz pageant is 400-500 MINIMUM. That doesn't include costumes, hair, make-up, nails, tanning, and whatever the hell else these parents think they need to make their children look fucking freaky. Six glitz pageants a year can run $10,000.00. Seriously.
Can I enter? I needs monies.
And typically they win up to $1,000.00. 
So what did Alana win? 3rd runner up? Which makes me wonder what the HELL the other contestants were like.
That's GOT to be it.
So June, you win my "What the FUCK is wrong with you? award for this week. Personally, I dunno how ANYBODY will top this one.
Honey boo-boo child.